The Power of Teamwork: from Table Tennis, to Hometown and GS Community
2023 Grad Profile: Qitian (Caroline) Xing '23GS on how teamwork has enabled and enriched her GS experience.
May 03, 2023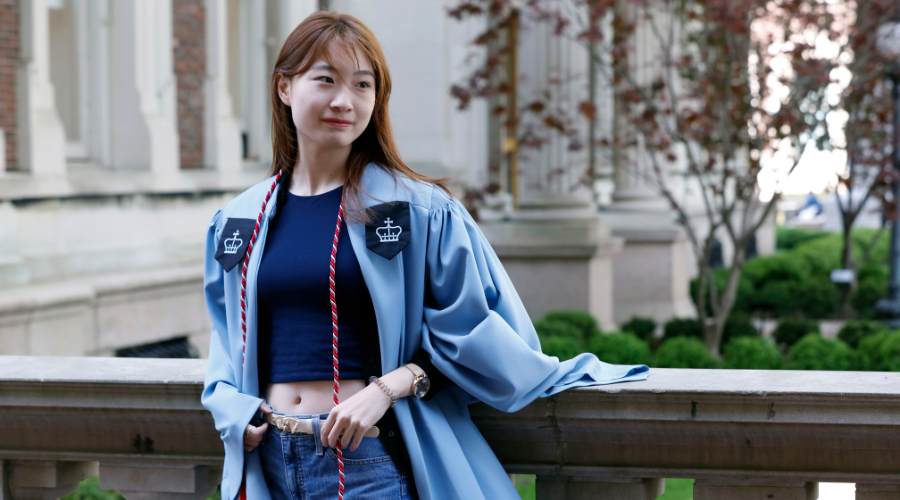 Qitian (Caroline) Xing '23GS, a graduating senior in the Joint Degree Program with City University of Hong Kong (CityU) and economics-mathematics major, reflects on the crucial role of teamwork in her GS journey, from sports, to supportive hometown and campus communities.
What have been your proudest accomplishments at Columbia?
As a Joint Degree student with City University of Hong Kong (CityU) and Columbia, I've had the opportunity to engage in various extracurricular activities. During my time at CityU, I served as a board member of the Chinese Calligraphy Club, and I also volunteered at a nursing home in my hometown and worked to improve the lives of the elderly residents. During my time there, I discovered that many of them had suffered significant losses, including the loss of their spouses and children. Through listening to their stories and developing empathy for others, I realized that they needed more than just assistance with their daily activities. Therefore, I devoted my weekends to helping the seniors with reading, dining, recreational activities, and providing them with companionship and emotional support.
Another part of my story is that as an amateur professional player in table tennis, I actively seek opportunities to bring this underrepresented minority sport from China to the rest of the world. I joined the Columbia Table Tennis Team, and our practices fostered a friendly and interactive environment, creating a more extensive community of players. Together with my teammates, we are proud to have achieved several notable accomplishments, including 2nd place in the 2021-22 NCTTA NYC divisional women's singles, 2nd place in the 2021-22 NCTTA northwest regional women's team, and 1st place in the co-ed team competition.
Who are some people who have contributed the most to your Columbia experience?
As someone who grew up in a single-parent family, I feel a deep sense of gratitude towards my mother. Despite the challenges of raising a child on her own, she has always made sure that I feel loved, valued, and supported. I have never felt as though I am lacking in anything or inferior to others, thanks to her unwavering love and care. My mother's resilience, strength, and determination have been a constant source of inspiration to me, and I am incredibly proud to have her as my parent.
I would also like to mention my experience as a research assistant at Columbia, which involved investigating high-frequency stock data analysis and microstructure noise. Through this experience, I came to understand the power of applying data analytical tools to gain actionable insights from massive data and draw informed, evidence-based conclusions. I am deeply grateful for the opportunity that my professor gave me, as well as his guidance and support throughout the whole time.
During my time at GS, I was fortunate to have two supportive best friends and roommates, Olivia and Ashley, who stood by me through thick and thin. Their unwavering support and encouragement helped me navigate the challenges in a professional and emotional way, making my experience at GS all the more meaningful. I also had the pleasure of meeting Jessica, the former Chief of Communications at the GS Student Council, who introduced me to the vibrant array of GS student events. Her enthusiastic involvement in student events and activities created a warm and inclusive atmosphere that made me feel like GS and Columbia were my second home.
I am truly grateful for the kindness and support of these people, as well as the GS Student Council and the broader GS community. Their actions and attitudes demonstrate the true spirit of GS, where individuals come together to support one another and make each other feel at home. My time at GS has been truly unforgettable, and I will always cherish the memories and the people who made it all possible.
What are your plans for after graduation?
I will be studying at Princeton University, pursuing a Masters in Finance, starting in fall 2023.
What advice would you give to a student who's about to start their GS journey?
Take full advantage of the resources that GS has to offer. From academic and career advising, to extracurricular activities, there are countless ways to enhance your experience at GS and achieve your goals. Stay informed about GS events by regularly checking the GS events website and the GS weekly newsletters. These events are not only engaging and enjoyable but also offer valuable opportunities to connect with fellow students, faculty, and alumni.
It's also crucial to stay connected with your academic advisor throughout your time at GS. They can provide valuable guidance on course registration, career planning, and other academic and professional goals. Whether you're seeking advice on choosing a major, or support during a challenging semester, your advisor can be a valuable resource to help you navigate your journey at GS.
In summary, just be proactive, engaged, open-minded, and make the most of this incredible opportunity to learn, grow, and thrive at GS!